Scuba Ranger program is a Diving school designed for children aged 8 to 12. Scuba Rangers classes are safe, taught only by instructors specifically trained in the Rangers program.
Join the Scuba Rangers Club and make diving a long term activity.
Have a great time with other scuba rangers at club sessions as you participate in interesting activities. These include underwater photography or night diving with torches at the swimming pool, visiting zoos and aquariums, going to the cinema and much more.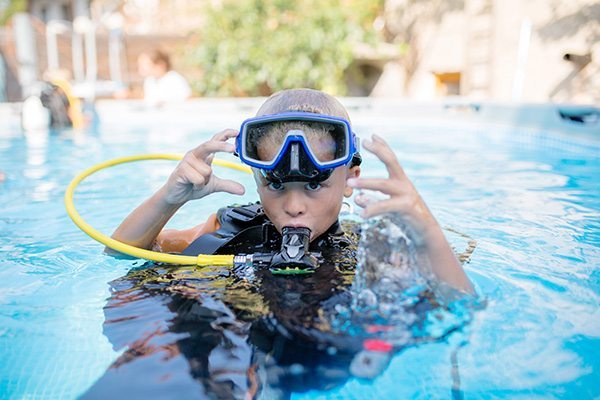 SSI Instructors affiliated with an SSI Facility are the only ones allowed to teach Scuba Ranger programmes as they have been specially trained to teach diving to children.
The programme is carried out in a pool (or under confined water conditions in a protected area) up to 4 metres (12 feet).
Safety is a top priority and we strictly observe the 1:2 instructor-student ratio at depths of more than 1.50 metres (5 feet). Medical supplies are also always within reach.
Be At Least 8 Years of Age or Older
Pool/Confined Water Sessions Varies
Pool / Confined Water dives only
Maximum Training Depth of 5 meters / 15 feet
14 - 20 hours
1 Theory Session
Various Pool Session
Scuba Rangers Recognition Rating
The fun doesn't need to stop there! With just a little more training, you can go even further – imagine diving in underwater shipwrecks, with sharks, or becoming an underwater photographer! It s your chance to move to the next level in your diving adventures.